We are honored and excited to announce that two of our The Center for Cartoon Studies (CCS) grads and current faculty, Robyn Smith '17 and Tillie Walden '16, have been nominated for the prestigious Eisner Award! Both are in the running for "The Best Publication for Teens (ages 13-17)."
Robyn Smith '17 for WASH DAY DIARIES (Chronicle Books) with writer Jamila Rowser. Robyn is a 2017 graduate of CCS, was a fellow from 2021-22, and is a member of our faculty.
Most recently, Robyn illustrated the DC Comics graphic novel, Nubia: Real One. In 2022, she won the Emerging Talent Award at the Cartoon Crossroads Columbus. The award comes with a no-strings-attached check for $7,500, to support an amazing cartoonist just starting to make their mark on the comics scene. Robyn is more than making her mark!
WASH DAY DIARIES is a tribute to Black women's hair care and friendship. It tells the story of four best friends—Kim, Tanisha, Davene, and Cookie—through five connected short story comics that follow these young women through the ups and downs of their daily lives in the Bronx.
Tillie Walden '16 for CLEMENTINE BOOK ONE (Image Comics). Tillie also a graduate of CCS and is a member of our faculty.
This year, Tillie was appointed Vermont Cartoonist Laureate, the fifth in the state's history, and its youngest. She won the 2018 Eisner Award for "Best Reality-Based Work" for her graphic novel memoir SPINNING (First Second), which made her at 22 one of the youngest Eisner Award winners ever. She won another Eisner in 2020 for ARE YOU LISTENING? (First Second/Macmillan) in the "Best Graphic Album – New Material" category.
CLEMENTINE BOOK ONE follows the title character through her coming-of-age journey in this follow-up to the famed series, The Walking Dead by Robert Kirkman.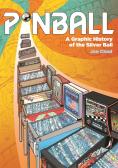 We'd also like to extend a proud shout-out to Jon Chad who was a longtime instructor at CCS. His graphic novel, PINBALL: A GRAPHIC HISTORY OF THE SILVER BALL (First Second/Macmillan), was nominated for "Best Reality-Based Work."
As well as to Liniers who was a CCS fellow from 2016 to 17 for his nomination in the "Best Archival Collection/Project–Strips (at least 20 years old)" category for MACANUDO: WELCOME TO ELSEWHERE (Fantagraphics), edited by Gary Groth.
Congratulations everyone!
Tags: CCS Alum, Clementine, Eisner Award, Eisner Nominee, Graphic Novel, Jon Chad, Liniers, Robyn Smith, Tillie Walden, Wash Day