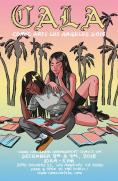 Comic Arts LA is in it's fifth year! It is a free, public event celebrating independent comics in Los Angeles on December 8 and 9. CALA is organized by Jen Wang (The Prince and the Dressmaker), Angie Wang, and Jake Mumm.
The Center for Cartoon Studies (CCS) will be there, represented by Kane Lynch ′16. They will be doing portfolio reviews, answering questions about our MFA and Certificate program, and giving away a limited supply of sketchbooks! Come by and say hi. And bring your questions and portfolio!
Sophie Yanow ′16 will also be CALA. She is currently posting her web comic The Contradictions via funding through her Patreon.
Tags: Angie Wang, CALA, Comic Arts LA, Jake Mumm, Jen Wang, Patreon, portfolio review, Sophie Yanow, The Contradictions, The Prince and the Dress Maker
---