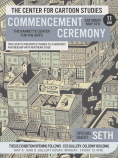 The Center for Cartoon Studies commencement ceremony will take place on Saturday May 5, 11am, at The Barrette Center for The Arts, with special guest SETH.
SETH is the creator of the comic book series Palookaville. His comics have appeared in the New York Times Magazine, Best American Comics, and McSweeneys Quarterly. His illustrations have appeared in numerous publications including the cover of the New Yorker, the Walrus, and Canadian Notes & Queries. He is Lemony Snicket's partner for the new Young Readers series, All the Wrong Questions, and has illustrated and designed a new, deluxe edition of Stephen Leacock's Sunshine Sketches of a little Town. He is the designer for several classic comics reprint series, notably collections of work by Charles Schulz, John Stanley, and Doug Wright and has exhibited throughout the world in group and solo shows.
The event is free and open to the public.
Please join us for the Thesis Exhibition Opening immediately following the ceremony. The exhibit features original work by the graduating class!

Tags: Commencement Cermony, Doug Wright, Drawn and Quarterly, Palookaville, Peanuts, Seth, Thesis Exhibit
---