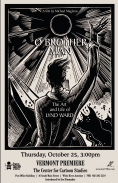 Vermont premiere screening of new documentary: "O Brother Man: The Art and Life of Lynd Ward." Introduced by filmmaker Michael Maglaras.
Thursday, October 25, 2012 at 3:00pm
Admission is free. Seating is limited. Doors open at 2:30pm.
Lynd Ward is the father of the American graphic novel and one of the most prolific book illustrators and printmakers in the history of American art. Featuring more than 150 wood engravings, drawings, and illustrations by this seminal American artist and storyteller, this 90-minute film brings the creativity of Ward to life and illustrates his mastery of the "novel without words." "O Brother Man: The Art and Life of Lynd Ward" includes recently rediscovered footage of Ward at work filmed in 1937 as he completed his great masterpiece "Vertigo." Ward's work chronicles American life in the 20th-century, and demonstrates his deep personal commitment to social justice and the plight of the workingman during the depths of the Great Depression.
The Center for Cartoon Studies, Post Office Building, 46 South Main St. in downtown White River Junction, Vermont
For more information, visit two17films.blogspot.com/
Tags: 217 Films, Cartoon Studies, David Berona, Graphic Novel, Lynd Ward, O Brother Man: The Art and Life of Lynd Ward. Michael Maglaras, printmaking
---