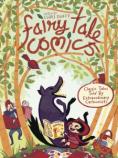 The Center for Cartoon Studies alumnus and Eisner-award-winning graphic novelist Joseph Lambert was recently invited by editor Chris Duffy to participate in Fairy Tale Comics, Duffy's second children's comics anthology for First Second.
The anthology also features stories by Emily Carroll, Gilbert Hernandez, Jaime Hernandez, Raina Talgemeier, Jillian Tamaki, and Craig Thompson, among others. Read more about Fairy Tale Comucs project and interview with Joseph Lambert on The Schulz Library blog: schulzlibrary.org
Order a copy of Fairy Tale Comics today!
Tags: Chris Duffy, Fairy Tale Comics, Joseph Lambert
---