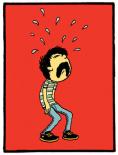 The word "comic" has always been a bit of a misnomer and The Cartoon Crier hopes to set the record straight. Sorrow and woe is the focus of this free 36-page newspaper tabloid that highlights the work of The National Cartoonists Society members and of The Center for Cartoon Studies' community.
The Cartoon Crier features the saddest strips from iconic comics like Family Circus, Beetle Bailey, Dennis the Menace, B.C., and For Better and For Worse. The Cartoon Crier also includes comics by Ivan Brunetti, Mell Lazarus, Melissa Mendes, Joe Lambert, Tom Gammill, Hilary Price, Laura Park, Richard Thompson, and Mo Willems, as well as new work from the paper's editors, Cole Closser, R. Sikoryak, and James Sturm.
The Cartoon Crier premiered at the 2012 The Museum of Comic and Cartoon Art Festival (MoCCA) in New York City and will be available as a free download on May 1 from cartoonstudies.org.
Image above: MONSTER by CCS student Dan Rinylo
Tags: and For Better and For Worse. The Cartoon Crier also includes comics by Ivan Brunetti, and Mo Willems, B.C., Beetle Bailey, Cartoon Crier, Cartoon Studies, Cole Closser, Dennis the Menace, Family Circus, Hilary Price, James Sturm, Joe Lambert, Laura Park, Melissa Mendes, Mell Lazarus, MoCCA, National Cartoonist Society, NCS, R. Sikoryak, Richard Thompson, Tom Gammill
---