April 14, 2018
Whiteley Foster '18 has released her graphic novel Vervain University. The book follows Alfie, a vampire, as he prepares to finally graduate after attending college for 100 years. But, as Whiteley puts it, "He's been intentionally failing college courses for the past 100 years, but a new teacher trying to help him graduate doesn't exactly match up with his 5-year plan…" Vervain University is a 120-page, full color graphic novel, at 6.6×9.4 inches. Whiteley did the following interview with Angela Boyle ′16.
Was Vervain University your thesis project? How much did you complete as part of your thesis?
Vervain University is my thesis project. I completed it entirely over the course of senior year, and in total it's 120 full color pages. It occupied all of my time and aside from some freelance work for some WRJ businesses I focused on nothing else all year!
Who was your thesis advisor and how did they help you?
My thesis advisor, Donna Almendrala ′12, has been the perfect advisor for me personally. Both in helping shape the story and being very hands on in the revising process, she's been invaluable. It also gave me the opportunity to work closely with a gifted artist successfully working in the field!
How much of your own experience has informed Vervain University?
Vervain University unintentionally captures what this past year has been like for me emotionally. It is definitely something I have been very emotionally invested in seeing as I came to CCS for my MFA straight from undergrad, straight from high school, straight from middle school, straight from elementary school! I've never not been a student, and while I'm not entirely sure what the next step is for me I am very optimistic and eager to get working!
Leaving the classroom environment is so much more exciting than I thought it would be at this time last year. I don't think I'll ever stop being a student entirely—it's become a huge part of my identity, and this was a very cathartic project for me. I hope you'll be able to see that come through in Vervain University!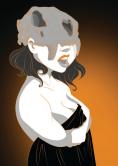 Tags: CCS Alumni, Donna Alendrala, Graphic Novel, Students, Thesis, Vervain University, Whiteley Foster