July 20, 2017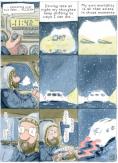 John Carvajal ('15) is a "cartoonist and full-time cook for [his] girlfriend." To support this wild lifestyle, he is running a Patreon where patrons can follow his daily (as in, yes, every day) journal comics along with other finished pages of comics.
His original daily comic was called Breadcrumbs, which you can read here. Once you are hooked on those, you will have to be a patron to get your new daily dose.
Carvajal has an expressive style with direct influence from a large variety of European cartoonists. His beautiful watercolors are worth a long gander.

Post by Angela Boyle.
Tags: autobio, Cartoon Studies, John Carvajal, Journal, Patreon, Self-published