May 2, 2020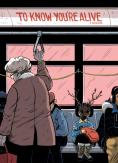 Coming in September 2020, we get another collection of horrific, humorous, and absurd comics from Dakota McFadzean '12: To Know Your Alive (Conundrum Press). Preorder now!
Populated by cruel bullies, exhausted parents, and relentless cartoon mascots, the world of To Know You're Alive renders the familiar into something that is alien and absurd. The characters in these stories long to uncover something uncanny in shadowy attics and beneath masks, only to discover that sometimes it's worse to find nothing at all.
Dakota McFadzean previously published Other Stories and the Horse You Rode in On and Don't Get Eaten by Anything, which collects three years of daily comic strips. In 2014, Other Stories and the Horse Your Rode in On was nominated for the Doug Wright "Nipper" Award. Then in 2016, Don't Get Eaten by Anything was nominated for an Ignatz Award and won The Nipper. He is a co-editor/co-founder of the comics and art anthology Irene, and distributes his own short stories in his ongoing mini-comic series, Last Mountain.
Tags: Conundrum Press, Dakota McFadzean, Don't Get Eaten by Anything, Doug Wright Award, Ignatz Award, IRENE, Last Mountain, new book, Other Stories and the Horse You Rode In On, To Know You're Alive