May 24, 2018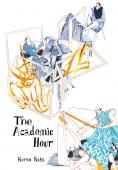 Keren Katz is a Tel Aviv based comics artist, illustrator, and the non fictitious half of The Katz Sisters Duo. She graduated from Bezalel Academy in Jerusalem. She has contributed stories to anthologies published by Fantagraphics, Retrofit/Big Planet Comics, Locust Moon Comics, Smoke Signal, The Brooklyn Rail, Ink Brick, Rough House Comics and more, as well as self published and collected comic books all year round.
She practices performative, interactive, and collaborative storytelling marathons in odd locations, and is part of The Humdrum Comics Collective and Pathos Mathos Company. Her debut graphic novel titled The Academic Hour (Secret Acres, 2017) was awarded the Cartoonist Studio Prize and nominated for an Ignatz.
The Center for Cartoon Studies (CCS) Fellowship is awarded to an emerging cartoonist who has already achieved significant critical and/or professional stature. The program is designed to help the cartoonist enter the next phase of their career by providing access to CCS's many resources. Katz is the 17th year-long CCS fellow. A full list of former fellows can be found here.
"My time in art schools and in shared studio practices both as student and teacher have been my most meaningful and transformative experiences and I am excited to spend this upcoming academic year in a place dedicated entirely to comics and to belong and contribute to this unique community of creators," said Katz. "I have been following and admiring the work of CCS graduates and faculty and I am grateful for the opportunity to absorb new skills, knowledge and ideas as I embark on a new graphic novel. I also can't think of a greater privilege than to be surrounded by so many other stories as they unfold."
"Even a casual glance at Keren's invigorating and distinctive work leaves a lasting impression," according to CCS director James Sturm, "Keren's love for the medium, exquisite craftsmanship, and generous spirit will be an incredible addition to the the CCS community."