May 15, 2016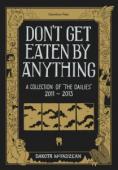 The best in Canadian comics and graphic novels were recognized May 14 at the 2016 Doug Wright Awards for Canadian Cartooning in Toronto, including The Center for Cartoon Studies alum Dakota McFadzean for Don't Get Eaten By Anything, Patrick Kyle, and Michael Deforge.
Congratulations also to alum Rebecca Roher ′15 who was nominated for Mom Body!
The Doug Wright Awards is a feature event of the Toronto Comics Arts Festival (TCAF), the 12th annual Wright Awards were held in downtown Toronto. The evening featured special appearances by R. Sikoryak (Raw, Masterpiece Comics), special guest presenters Seth, Chester Brown, Jeet Heer, Heidi McDonald, Chris Kuzma, Maurice Vellekoop, Nathalie Atkinson, and Betty Liang.
Tags: Bird in a cage, CCS Alum, Dakota McFadzean, Don't Get Eaten by Anything, Doug Wright Award, Mom Body, Rebecca Roher, TCAF, Toronto Comics