March 23, 2018

Web comics continue to be a rich source of material for publishers. Several of the selected comics were previously self-published and some were supported by highly successful Kickstarter campaigns. These books come to the publisher with a built-in audience, and traditional publishing allows the creator to extend their reach to new audiences, too. The incredible School Library Journal shortlist includes 3 CCS alum: Eleri Harris ′14, Melanie Gillman ′12, and Tillie Walden ′16:

Reported Missing: A True Story of Family and Murder by Eleri Harris ′14
A seven-part web comic tells the true story of Susan Neill-Fraser, who is serving 23 years in an Australian prison for the murder of her partner. Eleri looks at what it is like when your mom is charged with murder. Reported Missing is The Nib's first serialized work of long-form comics journalism. Originally from Tasmania, Eleri went to school with Sarah Bowles, whose mother is the one convicted of murder. With this insight, she delves into the emotional nightmare behind Tasmania's most controversial murder conviction. The first of seven posts went up just a week before the Supreme Court appeal could change everything. Eleri Harris is deputy director at The Nib.
"Here's a good one, the comic equivalent of Serial and Making a Murderer, a true life tale of crime and mystery." ––Heidi MacDonald, Comics Beat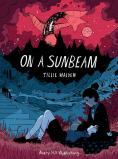 Tillie Walden ′16 began publishing her weekly web comic On A Sunbeam in 2016. OAS tells the story of Mia, from her life as a rebellious schoolgirl, to her time as part of the crew on the ship Aktis, out in the deepest reaches of space, rebuilding beautiful and broken down structures. Pre-order On A Sunbeam.
"Every now and again, there's a comic that will stop you dead in your tracks and consume your time until you take in every last page and dialogue bubble. That's the case with Tillie Walden's fantastic On A Sunbeam." –Andrew Liptak, The Verge
The first volume of As the Crow Flies, by Melanie Gillman '12, was released by Iron Circus Comics in November 2017. Since it's release, it has received three starred reviews, numerous best of 2017 lists, including The Advocate's Best Graphic Novels of 2017! The comic, originally published online where it is still updating, is about Charlie Lamonte, a thirtee-year-old, queer, black girl spending a week of summer vacation at an all-white Christian youth backpacking camp where she learns to question the rhetoric. This volume is 250 pages and $30. They started posting the web comic in January, 2012.
Gillman's brutally honest and wrenchingly beautiful story of friendship explores the simultaneous pain and joy of being young and queer. –Publisher's Weekly
Order a copy of As the Crow Flies.
See the incredible list of web comic creators featured in "8 Teen-Friendly Webcomics Coming to Print This Year" by School Library Journal.
Tags: Cartoon Studies, CCS Alum, Eleri Harris, Melanie Gillman, SLJ, Teen Comics, Tillie Walden, Web Comic, webcomic