October 8, 2018

Alum Jeff Mumm is supporting his video game Guinea Pig Parkour on Patreon. The comic comes from Jeff's web comic Guinea Something Good. Inspired by games like Earthworm Jim and Super Mario 64, Jeff is actively working on this comedy platformer, which features a guinea pig in a track suit jumping around for coffee beans.
Patrons can play prototypes of the game. The patron levels are set up with an interesting approach, defining how many minutes of development time you have paid him to do each month. For $5, you get a new game build to play each month and fund 30 minutes of development time.

For budding animators out there, the game is built on hand-drawn animations. For $10, you get access to Jeff's Udmey course, "Absolute Beginner's Entry into 2D Animation." For $30 you will get all the games and animation course and a sketch, on top of funding 3 hours of development time. There are a lot of great videos already up on his Patreon showing his process, including character design.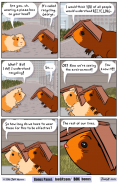 You can also buy a collection of Jeff's comics: Public Transportation: A Guinea Something Good Collection.
Tags: Animation, animator, Cartoon Studies, CCS Alum, developer, game, Guinea Pig Parkour, Guinea Something Good, interview, Jeff Mumm, Patreon, Udmey, Web Comic