May 12, 2018

Eisner nominations are out and we must send out congratulations our CCS alums!
Liniers, CCS fellow 2016–17, is nominated for Good Night, Planet with Toon Books for Best Publication for Early Readers (up to age 8). For ages 4 and up, the story explores what your toys do when you're sleeping.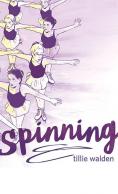 Tillie Walden '16 for Spinning, which is nominated for Best Publication for Teens (ages 13–17) and for Best Reality-Based Work. Spinning is about Tillie's time as a figure skater, all through high school, where she comes of age, comes out, and comes into her own.
Let's also give a shout out for Charles M. Schulz whose Celebrating Snoopy (Andrews McMeel) is up for Best Archival Collection / Project—Strips. The Schulz family provided the funds for CCS to start the excellent Schulz Library.
Tags: Charles Schulz, Eisner, Good Night Planet, Liniers, Schulz Library, Spinning, Tillie Walden