September 28, 2017
It was bound to happen. Take a visual extravaganza like RuPaul's Drag Race and combine it with the visual output of alum from The Center for Cartoon Studies, and of course you will get amazing drawings of Sasha Velour, Season 9 winner, by alum.
Laurel Lynn Leake (′13) is the creator of Poly Morphous and Deep Forest.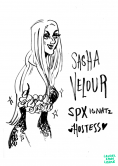 Sophie Goldstein (′13) is the creator of The Oven (AdHouse Books, 2015) and House of Women (Fantagraphics, October 2017). She found some drawings from her sketchbook when Sasha would dress up for Drag Race viewing parties for Season 4.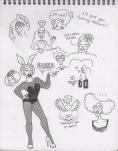 Stephanie Zuppo (′15) has drawn a fierce, red Sasha. Stephanie is the creator of Belchville, VT, and cofounder of Conosaurus, the website for planning your attendance to comic conventions.
If you have drawn Sasha Velour in all her glory, share a link!
(post by Angela Boyle)
Tags: AdHouse Books, art, Belchville, Cartoon Studies, Conosaurus, deep forest, drag race, drawn, Fantagraphics, House of Women, Laurel Lynn Leake, poly morphous, RuPaul's Drag Race, Sasha Velour, Sophie Goldstein, Stephanie Zuppo, The Oven