April 11, 2017
Alec Longstreth has the strength and enthusiasm of ten cartoonists. He has a long history with The Center for Cartoon Studies, coming in as the second fellow, running summer workshops with Jon Chad, teaching Publication Workshop class with Jon Chad and then Professional Practices. Now he runs CCS's outreach program. And for good reason. He is an amazing speaker.
He was very interested in telling people his comics history. He told how he became a cartoonist, which you can read in his collection of Phase 7, Transition. Through this story, he emphasized what he did wrong along the way that caused him problems later. His teaching moments. How to avoid all the mistakes he made.

For example, he explained why you should never draw super huge and scale down. There are many reasons behind this, one being the loss of detail. Another being time: When you draw a page at 150% on paper that is 18×24 inches, it takes a significant amount of time. To demonstrate this, he had the audience do a drawing exercise.
He went on to admonished and encourage everyone to work as hard as they are physically capable, which is often harder than you think. You should wring every drop of education from school so you won't have any regrets later. For example, when Alec was attending art school, he calculated how much each class cost him and he would make sure he got every cent out of every class.
As a huge proponent of self-publishing, he talked about the publishing industry from the other side. He was a great contrast to the publishing crew at Industry Day the week before.

If you ever need a shot in the arm of the comics juice, you can hardly go wrong listening to Alec. He will pump you up an encourage all your healthy drawing habits. And if you can't get to see him talk, he has poured that enthusiasm into his Phase 7 comics. His next project is Phase 8, his publishing company. The first book is a collection of autobio comics by Gabby Schulz, A Process of Drastically Reducing One's Expectations.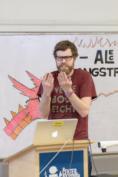 Photos courtesy Abe Olson.
Tags: Alec Longstreth, Basewood, Cartoon Studies, Gabby Schulz, Jon Chad, Phase 7, Phase 8, Self-publishing, Transition, Visiting Artist